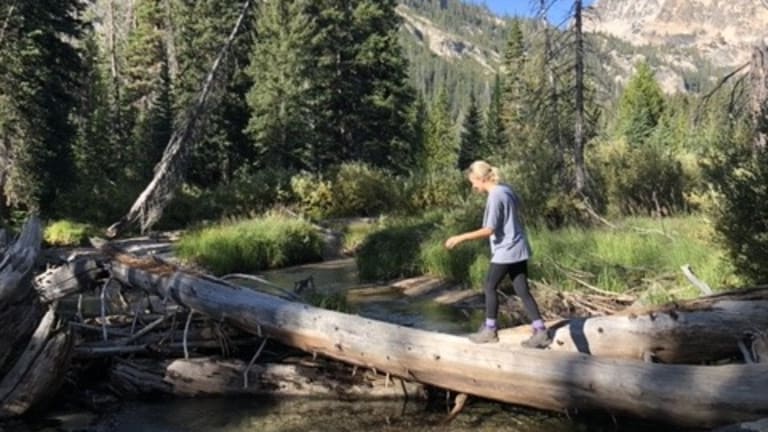 Take to the Trails
Trail running is a fast-growing sport that offers women fitness, stress relief, and community.
I'm a runner. I'm not very fast, I do not own a fancy watch that tells me where I am or what my pace is, and I have yet to lose a toenail, but I'm committed. I like to wake up running—to leave home in the still-hazy early-morning light and feel my body come to life as my feet find their rhythm, my wheels start to turn, and my senses awaken.
Though I have pounded my share of pavement at various points in my life, my feet have always felt most at home on dirt. The soft, forgiving surface of packed earth, the crunch of a long gravel road, and the winding, rocky steep of a mountain trail ascent mark my favorite runs. And though oatmeal and electrolytes no doubt have some impact, I like to think that my best runs are fueled by my senses—the high-alpine smell of sage and pine; the bright, wide, blue-bird sky; and the dense quiet of morning in the open.
Trail running—the official term for what those of us who do our best to avoid pavement do—is growing in popularity. In fact, according to the American Trail Running Association (ATRA), the number of participants in official trail events and races more than doubled between 2000 and 2010. Nancy Hobbs, executive director of ATRA, a Colorado-based nonprofit corporation created to serve the trail- and mountain-running community, says that the increasing popularity of the sport is due to the physical challenge it presents, the beauty of the landscapes frequented by trail runners, the opportunity it provides to participate in new events and try new terrain, and the overall change of pace that it offers to those accustomed to road running.
Women and Trail Running
Among those turning to the trails are growing numbers of female runners who are discovering the joy and the fitness opportunities to be found in trail running. "The growth among women is certainly a factor in the increased participation," Nancy says. "Whereas 20 years ago the number of women was a very small percentage of the overall participation, this has grown. There are more women out there mentoring other women, and the can-do attitude is prevalent." The combined physical and mental challenge that the sport offers is a major draw, Nancy says, as women learn to navigate trails and test their endurance: "When you can get to the top of a trail or run a trail race from start to finish that you didn't think you could do, it's really empowering—especially for women."
In addition to providing a sense of accomplishment and the physical reward of increased fitness, trail running can function as an invaluable stress management tool for women increasingly striving to balance career and family. Elinor Fish, former managing editor at Trail Runner magazine and owner of Run Wild Retreats, says, "Running is proven in studies to make you more resistant to emotional stress by reinforcing brain structures. It's no wonder that respondents to a survey by the Outdoor Foundation [a national nonprofit organization promoting outdoor enjoyment and environmental stewardship] rated relaxation as their number one reason for trail running—above fitness!"
For many women, trail running also offers a valuable opportunity to build community. "The fun thing about trail running is that it's social," says Elinor. "Market surveys—as well as my 10 years of organizing running clinics—show that women prefer to train in groups for mutual support and motivation. Women enjoy running more when they are not pressured to keep up with faster or competitive running partners."
Ultimately, trail running provides a uniquely accessible option for women interested in a truly transformative physical activity. "Running is simple to learn, easy to access, and a low-cost way to get fit and lose weight," Elinor says. "For women looking to change their lives in the form of improving their health, losing weight, or feeling better about themselves, running accomplishes all three things simultaneously and with relatively little time and cash investment—even running for as little as a half hour three times a week can produce results for a beginner."
Trailblazer
Elinor herself has long known the joys and the benefits of trail running. A competitive runner for more than 20 years, she ran track and cross-country in college in British Columbia. It was after graduation, she says, that trail running stole her heart as she began to log many solo miles in mountain terrain. In 2010 she founded Run Wild Retreats (see "Run Wild" sidebar) to introduce other women to the joys inherent in trail running and, in the same year, was a finisher in the famed Lifetime Fitness Leadville Trail 100—a 100-mile trail race in the Colorado Rockies.
Throughout her life, running has both grounded and empowered her. "Running has kept me healthy," Elinor says. "It has kept me feeling good about myself, given me confidence, helped me lose weight after the birth of my son, taught me how to build a plan and execute a goal, been the center of my social life, and been my moving meditation and a source of solace, my stress management system, and my mechanism for feeling alive."
One Foot in Front of the Other
If you're ready to step off the pavement and give trail running a try, it's as simple as finding yourself some dirt. According to the ATRA, "any unpaved surface" qualifies as a trail, so even if you're a city dweller, you'll likely be able to find some form of soft ground within reach. Check out parks and nature preserves and contact local running clubs for more information about the best options in your neck of the woods. Keep in mind that a smooth trail or dirt road provides a great place to start as you gain fitness and experience, which you can follow up with more-challenging terrain and even some technical elevation gain and loss as your training progresses. But beware: once you've made the switch to softer ground, you may never go back.
Run Wild
Trail running and wellness retreats offer women the opportunity to run, relax, and connect.
Elinor Fish knows well the gifts that trail running can provide. In her more than 20 years as a runner, she has benefited from the fitness, increased confidence, stress relief, and community that running offers. "For me trail running gives an opportunity to meditate, take a break from the day, spend time in nature, and feel incredibly empowered," Elinor says. Inspired by her own experience, she dreamed of passing her passion along. "I wanted to introduce other women to the joy of running so that they could feel those same things."
In 2010 Elinor made her dream a reality when she founded Run Wild Retreats, trail-running and wellness retreats created to educate women about running and yoga in a nurturing, relaxing environment and inspire them to make these activities part of their lives. The three-day retreat, held for the second year in a row at Vagabond Ranch in Colorado, featured daily trail runs in surrounding wilderness, yoga classes, and seminars on a range of topics, including sports nutrition, increasing endurance, staying motivated, preventing injury, training for a race, and selecting the right shoes and gear.
Though all participants have some running experience, individual goals vary, Elinor says, and she designs the retreat to accommodate different fitness levels and personal objectives. "It's important for me that runners of all levels be able to run as far and as fast as they want," she says. "I want to provide everyone the opportunity push themselves if they want or to take it easy if they want."
For Megan Evans, who traveled to the 2010 retreat from Houston, Texas, the goal was simple: to "have fun and run in a different environment." Daily runs on the beautiful trails around the ranch provided Megan with the new challenge she was seeking—she actually ran farther than she had ever run at that point—and the community of women gathered for the retreat offered a welcome chance to connect. "I loved meeting the other participants," she says, adding, "Elinor provided a really supportive environment and helped us all enjoy ourselves."
For more information about Run Wild Retreats, visit www.runwildretreats.com.
Resources