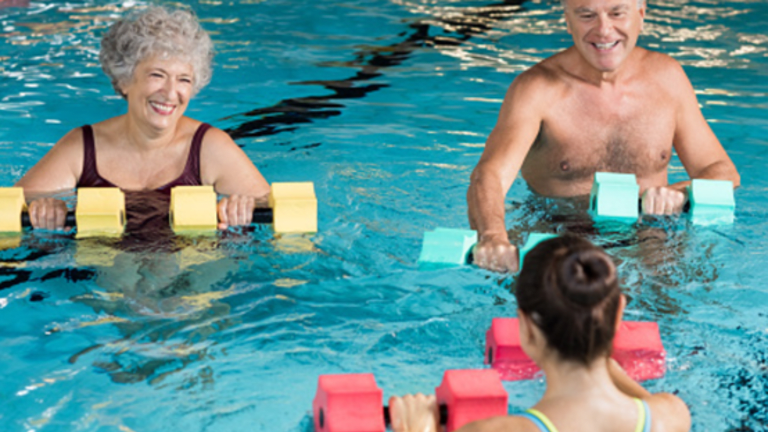 Stress-relieving Water Exercises for the Elderly
Everyone wants a stress-free zone to calm their nerves.
Everyone wants a stress-free zone to calm their nerves. The fast-growing technology and unending competition have made this world a difficult place to live. Everyone is busy modulating their lives according to current trends and traditions, from children to adults. As a result, they become victims of anxiety and depression.
This mental stress is prominently affecting the elderly. It is causing detrimental effects on their physical and mental well-being. Their bodies get weakened and cannot cope with the burden. Consequently, many diseases attack their bodies, and they have to seek help from the nearest doctor. Therefore, they should adopt various means to exempt themselves from these burdens.
Many experts suggest water exercises for the elderly. However, take consultation with medicare doctors near you before doing those exercises. These water-based exercises help relieve joint pain, possibly caused by arthritis or osteoporosis. These exercises are also helpful in restoring bone density. Moreover, they enhance muscles' mass that delivers firmness and agility.
Preventative Measures Before Starting an Exercise
Every elderly must follow these steps before initiating any type of exercise. Such guidelines are;
Consult Medicare Doctors Near You
An elderly must consult his or her physician or primary care doctor before initiating any exercise. A medicare doctor is well aware of a patients' health conditions. As a result, they will give them sincere advice while considering their health issues. Moreover, individuals with cardiovascular disorders, recent surgery, infection, hernia, etc., must strictly follow their doctor's advice.
Seek Guidance From the Trainer
Moreover, the elderly must consult a fitness trainer. These experts will suggest combinations of exercises along with their duration. As a result, the exercises will not exert extra pressure on their weak bodies.
Take Healthy Meal
A healthy body yields a healthy mind. Therefore, the elderly must take care of their meal plan. The diet must include all the healthy nutrients, vitamins, probiotics, prebiotics, and other essential ingredients. This way, their body can sustain heavy-duty exercises by following a proper diet.
5 Stress-relieving Water Exercises
Achy joints and lethargy often make the elderly cut off their social life. As a result, they spend most of their time alone at home. Paradoxically, instead of relieving, it makes their problems even worse. Experts suggest that the elderly must spend some time doing physical exercises, such as yoga, running, water exercises, etc.
However, water exercises are the most impactful of all. The buoyancy of water molecules yields enough upthrust to the body. Subsequently, they don't have to put extra stress on moving their joints and muscles. As a result, it is the most healthy exercise to relieve joint and muscle pain. These exercises generate flexibility and balance in the body.
Aqua Jogging
Unlike simple jogging, a person performs aqua jogging in the water. It is an aerobic exercise that gives flexibility and energy to a person. During this exercise, the elderly are advised to jog from one side of the pool to the other. As a result, it boosts their circulatory system. Moreover, it stimulates the pumping mechanism of the heart.
Aqua jogging is a beneficial exercise for better cardiovascular system functioning. They can also jog or march while standing stationary at their place. The buoyancy keeps the body active by removing extra stress on joints. As a result, aqua jogging stimulates muscles, ligaments, and bones for efficient functioning.
Flutter Kicking
It is another stress-relieving water exercise. Water generally acts as a cooling medium. As a result, the elderly get a soothing effect by merely standing in the water. Flutter kicking is a cardio exercise that removes stress from the mind and body. Usually, it requires a kickboard. However, one can do without it as well.
This exercise involves kicking your legs back and forth. This movement across the pool will create a fluttering effect, flutter kicking. Hold onto a firm surface to support your body. Afterward, start propelling your legs in a steady motion. However, the elderly should not tire themselves as it can lead to cramps. If I were to perform this exercise, I would consult medicare doctors near me to avoid cramps or muscle rigidity.
Leg Lifting
Leg lifting involves all the major muscles of the legs. Moreover, it improves the core strength and helps balance the body. Leg lifting is a stress-relieving water exercise that involves raising the leg. Before initiating it, try to secure your stability by getting support. Therefore, start performing this exercise after assuring all the precautionary measures.
Lift your leg to a bearable height and sustain the position. After a while, switch the legs and perform a similar maneuver with the second leg. Moreover, stop doing it if you start feeling tired. Leg lifting is a great way to boost your strength and endurance. Moreover, it yields muscle flexibility and promotes stability and balance.
Water Push-Ups
Water push-ups involve your shoulder, neck, chest, and arms' muscles. As a result, it builds strength and body mass around your neck, chest, and arms. It is similar to regular push-ups. However, water will provide extra force to perform this exercise. This way, the exercise will not exert extra pressure on muscles, joints, and ligaments.The elderly must make a considerable effort as they can harm themselves while performing water push-ups
To perform this exercise, move to the side of the pool.Now place your hand on the pool's edge. Additionally, place your hands widely as the distance should be greater than the shoulder's length. This way, bring your body towards the surface by bending your arms. Afterward, straighten your arms to pull the body back.
Arm Curls
For performing this water exercise, the elderly will need water weights. Additionally, these water weights should not be as heavy as the usual ones. This way, they don't offer extra resistance and effort. The elderly should hold the weight and start curling up and down. Keep curling until you feel tired.
Conclusion
Water aerobic exercises help significantly in reducing joint pain. Moreover, these exercises keep the elderly healthy and strong. Many elderly become victims of certain physical and mental disorders. However, research has supported the benefits of stress-relieving water exercises.
Therefore, the elderly must perform these exercises once or twice weekly to procure more significant benefits.