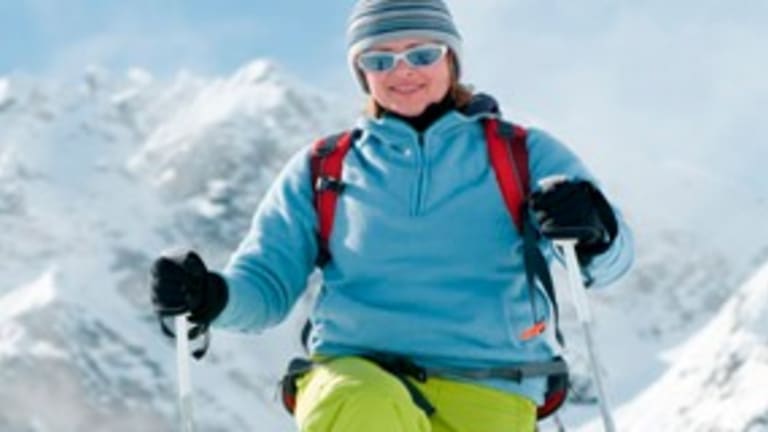 Snowshoe Your Way to Winter Fitness
Strap on a set of snowshoes and get fit while you play in the snow.
If winter has forced you to take your walking or running routine indoors to a treadmill or elliptical machine, consider a fun winter alternative: snowshoeing. Snowshoeing provides a great workout along with an opportunity to get outside and enjoy some fresh air. And it's a whole lot more fun than a treadmill.
Snowshoes
Snowshoes are wide oval-shaped, lightweight devices designed to help you walk over snow. Snowshoes are designed to create a sense of "flotation"—which means they distribute your weight over a larger area to prevent you from sinking into the snow. Modern snowshoes are made of lightweight metal, plastic, and synthetic fabrics with bindings that easily buckle over shoes or boots. Snowshoes provide the ultimate sense of freedom—allowing you to walk over snowy areas and explore areas that were formerly off limits during the winter months.
Benefits of Snowshoeing
If you love cardiovascular exercise, snowshoeing is an easy, fun way to get your heart rate up and enjoy a little sunshine. It's a low-impact activity that can improve strength and aerobic fitness. Snowshoeing is an excellent cross-training activity for runners. Depending on the pace and terrain, one hour of snowshoeing can burn anywhere from 400 to 1,000 calories.
Getting the Gear
Snowshoeing is a relatively simple sport to try because it doesn't require a lot of gear. Often, you can rent a pair of snowshoes from a local retailer so that you can try before you buy.
There are three types of snowshoes:
Running/Aerobic: These are small, lightweight snowshoes designed for runners and racers. They are not intended for backcountry use.
Recreational: These midsize snowshoes are slightly larger than their aerobic counterparts. They're designed for the average recreational user who wants to walk on gentle to moderate inclines for up to five miles.
Mountaineering: These are large snowshoes designed for long-distance trips, steep hills, and off-trail use. This type of snowshoe is good for hiking to a winter hut with a heavy backpack.
Poles: Trekking poles (or ski poles) are optional for snowshoeing. They aren't necessary, but they can provide a sense of balance, especially on steep terrain.
Footwear: The best footwear for snowshoeing is a pair of lightweight, waterproof hiking boots. If you plan to run with your snowshoes, you might opt for running shoes (layered over warm, wicking socks).
Just Say Snow
Learning to snowshoe really is as easy as strapping on a set of snowshoes and walking out into the snow. If you can walk, you can snowshoe. Dress in warm, wicking layers and plan to work up a sweat. The snowshoes tend to kick snow onto the backs of your calves, so wear waterproof pants or gaiters.
Before you head out, check trail conditions and avalanche danger. Pack water and snacks, slather on the sunscreen, and go have fun. Winter won't last forever; enjoy it while it's here!