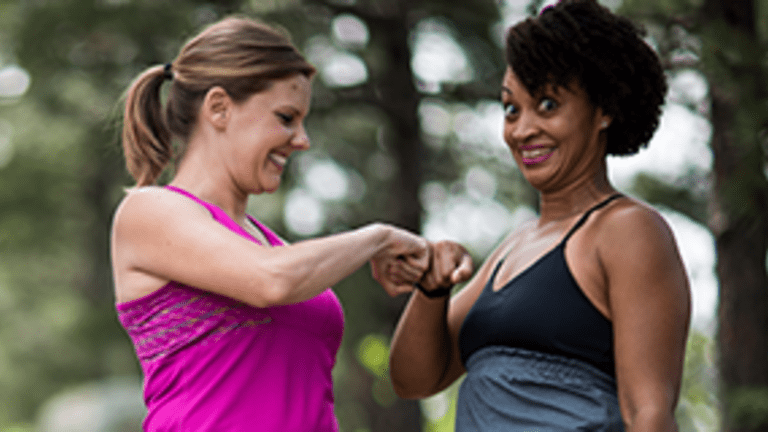 Running Start
Women pay their love for running forward by mentoring new runners.
As founder of women's athletic apparel brand Skirt Sports and a professional triathlete, Nicole DeBoom has spent a lot of time talking to women about running: how to begin running; how to train effectively; how to stay motivated. After years of these conversations, it became clear, Nicole says, that women were looking for help.
In 2010, to provide the expert guidance beginning runners were seeking, Nicole launched Kick Start, a cause-driven marketing program that paired 15 beginning runners with mentors to train them for their first 5K race. The mentors provided the practical accountability that the new runners needed, but the bonds formed also offered something deeper: "These mentors had found strength, courage, confidence, and happiness through running, and they shared that passion with other women who needed it," Nicole says.
Now the transformative impact of Kick Start (see the Kick Start runner/ mentor profiles on the following pages) is expanding its reach, as the program becomes an official nonprofit organization—renamed Running Start—under the Road Runners Club of America. In its new incarnation, the program will exist as an independent nonprofit organization dedicated to benefitting more women through running: "We will use donations to provide a broader range of resources for women, including running shoes, gear, and health screenings," Nicole says. "Through Running Start we will be able to help more women break their personal barriers and change their lives through running."
To ensure that the plans for Running Start meet the needs of all participants, Nicole has enlisted the expertise of nationally recognized running coach Jenny Hadfield, whose realistic approach to training, which acknowledges the full lives we all live beyond running, is a great fit for the program. Jenny says she is happy to jump in and help with Nicole's effort and is excited to lend her expertise to a program that "allows women to love running and provides a community that supports them from start to finish."
The ongoing support that mentors provide throughout the program, Jenny says, is key for new runners: "There are so many questions when we start a new adventure, and Running Start provides all the answers— from training, to gear, to all the little things that happen along the way. The challenge of anything new is the unknown, and that quickly fades with the information, inspiration, and love in Running Start." And, she adds, the benefits to mentors are equally significant: "Paying it forward provides the opportunity to learn by helping others, personal joy, and a boost in motivation."
The Mentor: Monica Knox
Monica Knox, a 39-year-old nurse from Denver, Colorado, knows the powerful role that running can play in building self-esteem and overall health. After falling in love with the sport as a middle- and high school student— "I loved running and track so much that I even wanted to get married on a track," she says— her life took an unexpected turn away when she became pregnant in high school. "Regular exercise was a challenge to fit into my other responsibilities as a wife and mother," she says of the years that followed.
But in 2011, after watching friends experience health benefits and camaraderie as they trained for and participated in running events, Monica committed to train for an upcoming race—and she hasn't slowed since. "Since I made that initial commitment, I have entered a running event every single month, and I'm currently chasing my goal of running a marathon in every state. I just completed number 16 in Louisiana!"
Her return to running has become a healthy outlet in her busy life, Monica says. "I struggled to balance the needs of my family with my own; running made me realize I deserve to be healthy and happy. It has done wonders for my mental and physical health—bringing me joy and reducing my anxiety."
Reconnecting with the transformative power of the sport led Monica to sign up as a mentor to other women striving to overcome barriers to physical fitness and reap the rewards of a strong mind and body. "I was attracted to the [Kick Start] program because, as a nurse, I get great satisfaction from helping others," she says. "This program was perfect because it combined two of my passions: helping others and running!"
What is Medicare Advantage
Medical Advantage or MA plan is a health plan provided by a private organization that partners with Medicare to offer healthcare services with their Medicare Parts A and B privileges.
When she was matched with newbie runner Kara Burns, she focused on connecting personally to understand Kara's needs and challenges and turned inward to recall her own running journey. "I've had many barriers to overcome, so not only could I provide Kara valuable tools and resources but I could also provide inspiration," Monica says.
As the two women built a relationship, Monica was able to provide Kara with motivation and accountability, showing up physically and emotionally to keep her on a training trajectory and help her accomplish her goal of running a half marathon. And they not only accomplished that joint mission but went on to work together as Kara trained for a full marathon and have remained good friends.
The experience of mentoring another woman toward the physical and emotional success that meeting running goals can bring, Monica says, has been a life-changing experience: "I have truly loved sharing my experience and my love of running with others within the running community through service with programs like Kick Start."
The Beginner: Kara Burns
Kara Burns lives her life today with a singular purpose: to surround herself with positive people who can help her make good choices and live a healthy life. While most of us could benefit from a similar goal, Kara has been especially dedicated to this path since her release from federal prison in 2013.
Determined to not return to the pattern of bad choices that had led her to be incarcerated, Kara has worked hard to build relationships with people and organizations that will help her live a healthy life. When she learned about the Kick Start program, she knew she wanted to join: "I flipped out when I heard about it because it was exactly what I had always wanted but never knew existed," she says. "I could run about 4 miles on my own, but I could never get past that. I was dying to do more and be more, but I didn't know how to do it. My ability was limited, my knowledge was limited, and my motivation was limited."
Enter Kick Start, where Kara found not only an inspirational mentor in Monica Knox but also a tribe of women to call her own. Though she was initially intimidated to be among "real runners," she soon realized the powerful connection the group shared: "When we all came together at that first meeting and all the women began to speak, I had the most profound realization: I thought, These are my people. These women are all overcoming things—maybe not prison, like me, but illness and many other challenges and barriers. It was life-changing."
The training with Monica that followed, as Kara worked toward completing first a half marathon and then a marathon with her mentor's support, brought her invaluable self-confidence and knowledge about living a healthy lifestyle. "Having Monica believe in me allowed me to believe in myself," Kara says. "I wanted to believe; I wanted to be this person, but I really didn't believe. It took someone else believing in me first."
The full realization of how powerful her running journey had been, she says, arrived at about mile 20 of the marathon: "I was crying, and I ran the entire race, which was my goal. Those moments showed me what I was made of. Kick Start gave me that. I can't tell you how life-changing it was; I can't stop smiling about it and telling people about it. I am an example of what can happen when people believe in you."
Having met her goal of completing the marathon, Kara continues to run and to maintain her friendship with Monica. "Running keeps me connected with people who are positive associations—good people," Kara says. "I continue to benefit from the life value that I got from running with other women."
For more information about Running Start, e-mailrunningstartprogram@gmail.com.