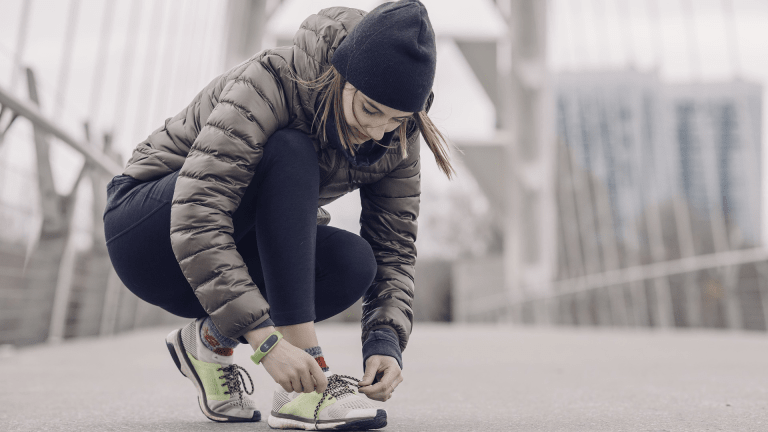 Keep Moving: Embrace the Bright Side of Exercise this Winter
Tips and strategies to overcome the barriers of Winter and COVID
by Diana Price 1/2021
How are you feeling about exercise this winter? If you're feeling challenged by the continued barriers to physical activity that the COVID-19 pandemic has brought—or just by winter weather—you're not alone. We're all doing our best to navigate this season and a variety of challenges to rethink how we engage safely in physical activity right now.
The good news? There are tips and strategies to overcome these barriers to keep moving, which is essential for long-term wellbeing. By understanding the benefit of exercise, how and where to exercise safely to avoid exposure to COVID-19, and tips and strategies to exercise indoors and out this winter, you can continue to move through this challenging time and maintain or improve your physical and mental health.
Back to Basics: Why We Need to Keep Moving
The Centers for Disease Control and Prevention (CDC) recommends that adults between the ages of 18 to 64 engage in at least 150 minutes of moderate intensity physical activity (think a brisk walk) and engage in strength training twice in a week; for adults over 65, the recommendation is the same, with the addition of balance exercises.[1]
The benefits to physical health of this level of consistent physical activity are many, including lower risk for: cardiovascular disease; hypertension; type 2 diabetes; and a variety of cancer types (bladder, breast, colon, endometrium, esophagus, kidney, lung, and stomach).[2] Regular physical activity also leads to increased cardiorespiratory fitness, helps in weight management, and improves bone health, cognitive function, and sleep—among other significant benefits to our bodies and brains.
But the benefits extend beyond the physical and cognitive. Research reflects the significant positive impact of exercise on mental health. According to a 2015 study published in The Lancet Psychiatry, a review of responses to a CDC survey of 1.2 million adults carried out over several years revealed that, "Individuals who exercised had 43.2 percent fewer days of poor mental health in the past month than individuals who did not exercise but were otherwise matched for several physical and sociodemographic characteristics."[3] In this case, "poor mental health" was defined as stress, depression, and emotional concerns. While all types of exercise had a positive impact among respondents, those who engaged in physical activity for 45 minutes, three-to-five times a week, reported the most significant impact.
As we continue to face risk of the COVID-19 pandemic, an added benefit of exercise is the boost it provides to our immune function, which may reduce risk of infection with the virus and shorten the duration should we become infected.[4] "We know people who are physically active have a higher level of protection from the virus," notes Keri Denay, MD, FACSM Assistant Professor of Family Medicine and Sports Medicine at University of Michigan Medical School and lead author of the "American College of Sports Medicine Call to Action Statement: COVID-19: Considerations for Sports and Physical Activity."
Right Here Right Now: How Physical Activity Looks Different this Winter
So we know we need to exercise to benefit our physical, cognitive, and mental health, but the reality is that we're facing new challenges this year against the backdrop of the COVID-19 pandemic.
Across the country, regardless of varying health guidelines and pandemic-related restrictions, physical activity patterns have changed for many of us. Dr. Denay says, "Unfortunately, for some people, physical activity levels have significantly decreased as gyms have been closed, limiting options for activity and for social interaction of group classes."
The flip side, she notes, is that "a lot of people have been able to work from home, which has freed up time that they may have spent commuting for exercise throughout the day at home or outside." Among her patient population, Dr. Denay says, "I've seen people really take hold of that. They'll tell me, 'you know, instead of taking an hour lunch break to sit down and eat, I'm taking part of that hour to get outside and go for a walk or do a workout at home.'"
Chris Gagliardi, and ACE Certified Personal Trainer and health coach, says that he has seen a similar shift to incorporating exercise into daily life. "It's really interesting because for a long time we've been preaching the benefit of finding ways to integrate physical activity into your daily routine, and this pandemic forced that, which may have a long-term positive outcome if people recognize how these habits can improve quality of life."
Movement Motivation
Of course, while the opportunity to exercise at home and integrate physical activity into your daily life may have been a novel treat six months ago, there's no question that, almost a year into what remains significantly restricted life in many areas, many of us are looking for inspiration and fresh ideas to move more this winter.
Both Dr. Denay and Gagliardi recommend thinking creatively about how to approach physical activity for renewed motivation through this season and to maintain consistent exercise patterns.
Gagliardi encourages reframing the "why" behind exercise to maintain motivation right now. "I'm increasingly seeing people embrace the mental health and quality of life benefits of physical activity—wanting to reduce anxiety and depression and improve sleep," he says. "I'm encouraging people to reflect on their goals around physical activity and potentially revise them to reflect these new priorities, which exercise can support."
Integrating movement into your day can be easier than you think. If the idea of 150 minutes of moderate-intensity physical activity over the course of a week is intimidating, Dr. Denay notes that there's no reason not to break it up into small increments over the course of the day or week. "We need to give ourselves a bit of grace right now. We're all under intense stress for various reasons—we may be working at home; experiencing job change or loss; coping with illness or loss in the family; facilitating or participating in remote learning—the list is long. This is the time to be creative and fit exercise in when and where you can."
For those working at home, this might mean short periods of activity between tasks. "If you only have time in your day for a 10- or 15-minute walk, don't hesitate because you're worried it's not enough," she says. "You start reaping the benefits of movement as soon as you get up off the couch. The important thing is the accumulated physical activity over the course of a week."
Gagliardi encourages those looking to stay close to home to broaden their thinking about options for physical activity. From a boom in online offerings to opportunities to use your home environment for creative movement, thinking outside the box about exercising at home can help inspire you to move.
He notes that health and exercise professionals have become innovative in developing new virtual options that appeal to all levels of fitness and can offer community as well as exercise. "There have been a lot of offerings across social media, and there are so many great virtual workouts—livestreamed and pre-recorded classes—that can provide that social element that many people are missing," he says.
One benefit of the boom in virtual offerings, Gagliardi notes, is that it's opening up group exercise to a new population of participants. "People who may have been intimidated to join a class in person can login from home and even keep their camera off if they want while trying something new. People are branching out and trying out different classes and a variety of instructors to find the right personality and workout style."
And, if you're not interested in virtual options, consider the way your indoor or outdoor space can become a playground. "I've actually set up a home gym in our backyard," he says. "I've attached a TRX trap and some Olympic rings to a tree in the backyard, which has been fun."
If you're not quite ready to create a home gym, there are plenty of easy-to-follow, free resources offering instructions for functional and body weight exercises that require no special equipment. Gagliardi notes the ACE Exercise Library provides step-by-step instructions and visuals—still photos and videos—for anyone to access to learn proper form and get inspired.
Do You Have the Perfect Nose?
The British Association of Aesthetic Plastic Surgeons (BAAPS) regularly releases an annual audit, and the figures from 2018 showed that some 28,000 procedures took place in 2018.
When, Where, What, and Who: Exercise Safely
Whether you take your newfound motivation outside, to a gym (if that's an option in your area), or exercise in your home, understanding safety recommendations will help you feel confident in maintaining exercise this winter.
"I want people to recognize that we can maintain our safety while also maintaining our fitness," Dr. Denay says. "While you should always follow the recommendations of the CDC and your local health department, you can exercise right now as long as you're taking all the appropriate precautions."
If you're exercising outside, those precautions should still include maintaining physical distance and wearing a mask if you're sharing the outdoor space. Additional safety guidance for outside exercise in the winter months is largely focused on staying warm, dry, hydrated, and upright on slick surfaces, Gagliardi says. "Remember that even though you may not be feeling hot and sweaty when you exercise outside in colder temps, you're still losing moisture, and dehydration is a risk, so be sure you're drinking during exercise and afterward."
Additional cold-weather exercise tips may seem obvious, but they're worth remembering: dress in layers, ideally in fabrics that wick moisture from the skin to keep you dry, and be sure you're wearing appropriate footwear if you're traveling over snow and ice.
With these tips in mind, Dr. Denay, says, getting outdoors can be a great way to find new motivation to move this winter: "This is a great time to give something new a try—consider snowshoeing or Nordic skiing, or just take a walk in the snow—all of it counts toward your movement goals."
For those who want to return to the gym, CDC guidelines for social and personal activities during the COVID-19 pandemic note that because the virus is spread through respiratory droplets, the following precautions should be taken to reduce risk of exposure: [5]
· maintain social (6-feet) distance;
· wear a mask (and choose a facility that requires all staff and patrons to wear a mask;
· limit high-intensity workouts; seek out a facility with excellent ventilation;
· disinfect equipment before and after use;
· avoid peak hours to avoid crowding;
· and, wash hands or use hand sanitizer before and after using equipment.
And, if you're finding home workouts are working for you, Gagliardi says, just be sure that you have enough space to do the exercise and that you're aware of any slippery surfaces or other safety concerns in your chosen space.
Wherever you choose to move, be sure to take your personal health history and any risk factors related to COVID-19 or any condition that may be affected by physical activity into consideration. "Anyone who has been diagnosed with COVID-19 or has any ongoing medical conditions should consult their physician before beginning any new exercise," Dr. Denay says.
As you tap into resources and consider how you'll integrate physical activity into your days through the remaining winter months and into spring, keep in mind the long-term benefit of maintaining consistent habits—now and when "normal" life returns. "Instead of thinking about exercise as a way to lose ten pounds, think of how moving consistently can become part of your lifestyle to help you live a longer, happier life," Gagliardi says. "The best approach to movement—now and always—is really a whole-life approach"
Additional Reading
References:
[1] Benefits of Physical Activity. Centers for Disease Control and Prevention website. Available here. Accessed January 27, 2021.
[2] Physical Activity Guidelines for American, 2nd Edition—2018*.* Centers for Disease Control and Prevention website. Available at: health.gov/sites/default/files/2019-09/Physical_Activity_Guidelines_2nd_edition.pdf#page=39. Accessed January 27, 2021.
[3] Chekroud SR, Gueorguieva R, Zheutlin A, et al. Association between physical exercise and mental health in 1·2 million individuals in the USA between 2011 and 2015: a cross-sectional study. Lancet Psychology. 2018;5(9):739-746.
[4] Simpson RJ, Katsanis E. The immunological case for staying active during the COVID-19 pandemic. Brain Behav Immun. 2020;87:6-7. doi:10.1016/j.bbi.2020.04.041
[5] Personal and Social Activities. Centers for Disease Control and Prevention website. Available here. Accessed January 27, 2021.