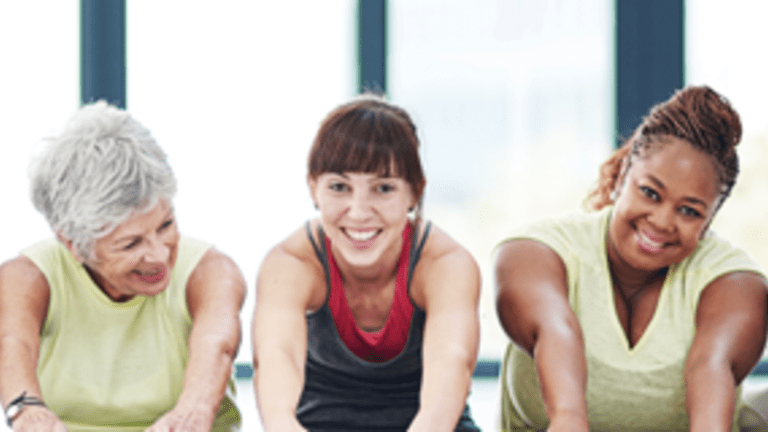 Is Group Exercise The Motivation You Need? All Together Now !
Group exercise provides an added dose of motivation and fun.
Is Group Exercise The Motivation You Need? All Together Now !
by Laurie Wertich
If you're like most people, the thought of going to the gym and slogging it out solo on a treadmill probably sounds like a tedious chore. In fact, in the grand scheme of chores, many of us might be inclined to choose bathroom cleaning over solitary exercise.
If you're not feeling the love for the gym, it might be time to consider one of the many group exercise programs that are cropping up across the country. Group exercise provides a structured, social exercise environment, and it's changing the way people experience fitness: it's fun, it's energizing, and research indicates that it has real benefits.
Get A Group
There are countless group exercise options, and each offers a unique twist on fitness. Boot camps typically provide challenging, high-intensity workouts in an outdoor environment. CrossFit is a total-body conditioning program that uses a variety of stations and apparatus to keep you sweating. Stroller Strides engages babies in strollers while moms sweat and move.
While each program has a unique approach, they all share a common theme: variety plus intensity plus group energy equals a positive, effective, fun fitness experience for all.
The structure of a group exercise program offers some obvious benefits over a personal exercise regimen. First, with a group program you receive a guided exercise experience—it's like having a personal trainer for a fraction of the cost. Gone are the days when you have to come up with a workout plan; someone else is doing that for you.
Second, because a fitness professional is leading the program, you're likely to have a safer exercise experience because you'll receive instruction in proper form and alignment. Finally, these group exercise programs provide a level of variety that is unmatched by a traditional gym workout. The variety prevents boredom, but it also prevents your body from adapting to the same old routine. By changing it up, you surprise your body and prevent plateaus, thereby reaping more benefits.
Get Motivated
With a group program, there really is a sense that you're all in it together, and that unifying energy can be very motivating. Andrea Lassanske, co-owner of Real Fitness, a kettlebell boot camp in St. Charles, Missouri, says that motivation is a key component of the success of her boot camp programs. "The motivation you receive from a boot camp environment is different from your average exercise class or training session," she explains. "Our people bond through hard work. They cheer each other on and celebrate successes and milestones together along the way."
Andrea and her business partner, Vicky Jordan, build in an extra level of motivation by teaching participants how to set realistic and attainable short- and long-term goals and then provide coaching via both boot camp and e-mail to maintain the level of motivation necessary for participants to reach their goals.
It's hard to match that level of motivation when it's just you against the elliptical machine.
Be Accountable
Ever made a date with yourself to go to the gym after work and then failed to show up? We all have. A group exercise program is sort of like a built-in accountability system. You'll want to show up because other people are expecting you.
Meg Gayman, an associate producer from Seattle, attends a CrossFit program several times a week. She enjoys it because it pushes her to new levels of fitness. It's challenging but supportive and fun. Each time she attends, her name is written on the board at "the box," which is CrossFit lingo for the gym space. "The benefit of doing CrossFit over going to the gym and working out on my own is part accountability and part camaraderie,"
Meg explains. "I know when I go to CrossFit, I'm going to get worked and I'm going to feel proud of myself and my friends there afterward."
In fact, Meg is on to something that researchers have observed: social support increases the likelihood of adherence to an exercise program.1 Researchers from Indiana University found that people who exercise together are seven times more likely to stick to it than people who go it alone.2
Build Camaraderie
Exercising with peers does more than hold you accountable; it's fun and it builds camaraderie. Researchers from Oxford University studied a group of rowers and found that people who exercise together experience a higher surge of endorphins than those who exercise alone and, as a result, are able to tolerate twice as much pain as their solo counterparts.3 They theorize that the endorphin rush from synchronized activity promotes bonding in much the same way that other social activities do.
Jessica Glenn, a full-time mom from Coronado, California, has been attending Stroller Strides for well over a year. She was hooked after the first class and now attends five days a week. "Stroller Strides has been my savior. I love it," she exclaims. "It's really nice to meet other moms who are in the exact same situation. It's so nice to have people to talk to and compare notes."
Jessica says that the routine and the camaraderie are what keep her coming back to Stroller Strides day after day. The moms sweat together while they sing and count with their kids. "I'm one of those moms who's not quite comfortable dropping my child off at childcare," Jessica explains. "This way she's right there in the stroller, so I can tend to her while I'm getting a great workout and enjoying the company of other moms."
Meg too says that one of the things she enjoys about CrossFit is the support of her peers. "We all have our individual goals, but as a group we push each other and are there to encourage each other to do our best," she says.
It's About the Group
"We really see an energy in our boot camps that we don't see in the regular group exercise environment," Andrea explains. "The group is instrumental in each individual's success." A treadmill can provide a workout, but it can't provide a sense of accountability or camaraderie. If you're looking for more from your fitness experience, consider joining a group for maximum results and maximum fun. You'll build relationships while you build fitness.
Group Exercise Programs
Find a fitness program in your area.
Boot Camp. Boot camp programs are widely available in cities throughout the country. Boot camps typically provide total-body workouts that are fun, challenging, and different every time. They often take place outdoors and combine cardio and strength exercises. Expect both high- and low-intensity exercises in a high-energy, motivating environment surrounded by people who want to get fit fast. For more information visit www.nestacertified.com/adventure-boot-camp-fitness-business/
CrossFit. CrossFit is a total-body conditioning program designed to help people develop strength and cardiovascular fitness. Participants move among several stations, such as push-ups, flipping tires, jumping rope, hanging crunches, and much more. Variety is the key to CrossFit—in fact, CrossFit trainers say that their specialty is not specializing. Many police academies and military operations use CrossFit as their strength and conditioning program, but it's suited for all ages and ability levels. Expect a little bit of everything. Expect to be surprised. Expect to sweat and have fun. Visit to find an affiliate program near you.
Stroller Strides. Stroller Strides is a total-fitness program designed for moms and their babies. The program includes cardiovascular and strength exercises that utilize the stroller and the surrounding environment. The unique program provides an opportunity for moms to connect with one another while getting fit. While the moms work up a sweat, they sing, entertain, and engage their babies. Expect to sweat, make new friends, and sing your ABCs. To find a Stroller Strides program near you, visit www.strollerstrides.com.
Online Exercise
If you don't have access to a group exercise program, there are several online communities that can provide support and encouragement.
Fitlink
FitLink is an online fitness community that provides tools to help you customize your own fitness program, track your progress in a fitness journal, and connect with others. You can create your own profile, search for workout partners, meet with training groups, and give and receive support.
Social Workout
Social Workout is an online community where you can set personal goals or participate in group challenges. The site also provides a tracking tool, where you can track your activities as well as see how others are doing. Social Workout uses positive peer pressure to get you moving.
Bookieboo
Bookieboo is an online magazine and social network for moms interested in fitness and health. The site offers support and encouragement for moms of all ages and abilities.
Peertrainer
About 1 million people per month visit PEERtrainer to learn how to improve their nutrition and fitness habits. The site offers information, social connection, and coaching.
Twit2fit
Twit2Fit is a community designed to provide support and encouragement for members seeking to improve their health and well-being. The foundation of the community is centered around both giving and receiving support.
References
Trost SG, Owen N, Bauman AE, Sallis JF, and Brown W. Correlates of adults' participation in physical activity: review and update. Medicine and Science in Sports and Exercise. 2002;34(12):1996-2001.
Wallace JP, Raglin JS, Jastremski CA. Twelve month adherence of adults who joined a fitness program with a spouse vs. without a spouse. Journal of Sports Medicine and Physical Fitness. 1995;35(3):206-13.
Cohen EA, Ejsmond-Fray R, Knight N, Dunbar RI. Rowers' high: behavioural synchrony is correlated with elevated pain thresholds. Biology Letters. 2010;6(1):106-8.