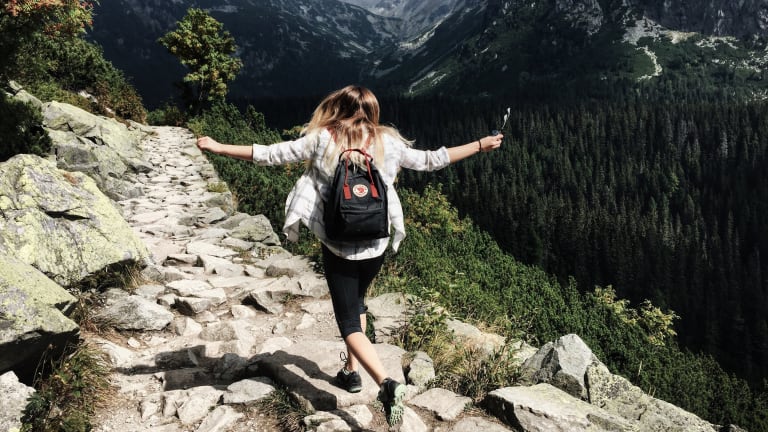 Hit the Trail - Hiking is Great for Fitness and Relaxation
Spring is here COVID is retreating - Walking in nature is good for your mind, body, and soul. Longtime hikers describe their love of the activity.
by Maryann Hammers
Cleo Everest recalls the exact moment she became a hiker. Her husband of 15 years was out of town on business, and she was home alone with the kids. "We had just moved across the country to Northern California, had two small boys, and I knew no one," she says.
Then late one night, her phone rang. Her husband had inadvertently made a pocket call, Cleo says. She describes what she heard on the other end of the line: her husband's muffled voice as he ordered a bottle of wine "to take to our room," the click-click of high-heeled shoes on a marble floor, a woman's giggle. For nearly four minutes, Cleo listened to her husband (now ex) cheating on her, she says.
With her life about to change in dramatic, unwanted ways, Cleo sought clarity, strength, and solace. So she laced up her hiking boots and hit the trails near her home—and discovered that nature proved to be darn good company. "Hiking centered me emotionally and mentally," she says. "Hiking is connecting with the planet and with one's soul. It's moving meditation; it unlocks pain; it frees me from fear."
The more she hiked, the stronger she became, inside and out. Months later she hiked up Mount Whitney, which, at more than 14,500 feet, is the tallest mountain in the continental United States. When she reached the top, she confidently signed her name— her maiden name—in the logbook at the summit.
Fitness and Much More
Today, Cleo—who later wrote the book His Giant Mistake and began blogging for DivorcedMoms.com— says that nature served as her "ther­apist" during that wrenching time.
Cleo is not the first to discover the mind-body benefits of hiking. Multiple studies confirm that physical activity in nature enhances mood, improves self-esteem, and boosts energy, according to a 2011 review published in the research journal Environmental Science & Technology.1 Researchers have also found that people who took a 25-minute walk in a leafy park were calmer, less frustrated, and less fatigued than those who walked through urban streets, according to a 2013 study published in the British Journal of Sports Medicine.2
"We spend way too much time in front of our computers, TVs, and phones," says Southern California native Amanda Pennington, a 31-year-old public relations executive who started hiking after losing a loved one in 2013. "Hiking provides a time to unplug, to recharge your body's battery. Hiking…soothes the soul.
"Beyond the endorphins our brain enjoys because of the exercise component, the sheer freedom of sauntering around on dirt can help the worst situations seem like they can be worked out," Amanda adds. "I stop every once in a while, take a sip of water, and look around me. That's why I do it: because of those surroundings, because of that silence, because of those trees, because of that squirrel, or lizard, or deer. I get out of the rat race, if only for a few hours."
And while the spiritual and mental benefits cannot be overstated, hiking offers a big health and fitness boost too. "You could bounce a quarter off my [butt]," Cleo proudly notes.
Ann Depta of Charlotte, North Carolina, launched a women-only walking group when she was in her early seventies. Now, at 78, she hikes and walks every chance she gets. "I feel that walking and hiking play a very significant role in my longevity. And my bone density level is terrific," she says.
Sure, you can also sweat it out at the gym, but why would you when the great outdoors beckons? Trail workouts beat a treadmill every time. "When you exercise in nature, your mind and body must negotiate elevation gradients and surface textures—grass, sand, stones, and tree roots—which enhances body awareness, balance, reaction reflexes, and neuromuscular coordination," says Amanda Joyce, a certified personal trainer from Los Angeles.
Also unlike the gym, hiking is so fun that "you barely know you are exercising until you collapse at the end of the day," says Maureen Murray, a 55-year-old marketing consultant who lives in Morris Plains, New Jersey. "Your senses are alive with the smells of plant life and the sights of animals and scenic views of mountains and waterfalls."
Hitting the Trail
Never hiked before? No worries. Hiking is basically walking on dirt, so you already know how to do it. For short, easy treks of less than 3 miles or so, you do not need any special gear; with a bottle of water, some snacks (nuts or dried fruit), a light jacket even on warm days (just in case the weather turns cool or dense trees block the sun), sunscreen, and a hat, you are pretty much good to go.
"Don't make a big deal of getting started," suggests Syd Hoffman, an Arizona motivational speaker and wellness coach. She has hiked on six continents and summited Mount Kilimanjaro at age 50. "Start walking outdoors for short periods of time with a friend," she suggests. "Enjoy listening to birds sing, smelling flowers. Gradually increase [the amount of time you walk]."
But leave the skinny jeans at home. "Wear comfortable clothing," says Alexandra Kenin. As founder of Urban Hiker San Francisco, Alexandra leads street and rural hikes throughout and around the city. "You don't want anything too tight or constrictive because you'll want to be able to move around freely."
Some hikers will not set foot on a path without sturdy hiking boots, but for easy jaunts "a pair of sneakers will do," Alexandra adds. Just make sure they have good traction and grip, as you may be walking on crumbling rocks.
You will be sweating and burning calories, so don't forget food and water. "Pack the amount of water you will think you'll drink—then double it," advises Laura Randall, a Los Angeles–based hiker and author of 60 Hikes within 60 Miles: Los Angeles (Menasha Ridge Press, 2006). "I have never regretted bringing extra water. I leave [a bottle] in the car for after the hike. Power bars and trail mix are great on the trail, but if you're planning a rest stop before you turn around, bring something robust like a sandwich to reward yourself and energize up for the hike back," she suggests.
Regardless of how many (or how few) miles you will be traipsing, you will want good hiking socks, advises longtime hiker Jennifer Horspool, a 45-year-old marketing executive who lives in Southern California. "Feet are [a hiker's] most important asset," she says. "Socks are your most critical piece of clothing and should be the quick-dry kind, not cotton. Hiking socks provide cushion and are worth the $10 or more that they cost."
In It for the Long Haul
As you build to longer, more strenuous hikes, you will need to be better equipped. Jennifer wears hiking pants (available at outdoor retailers), a long-sleeved shirt (for protection from sun and cool shade), and a backpack with a built-in water bladder. She also stashes in her backpack poison oak wipes, bug repellent, bandages, extra sunscreen, and lip balm. "I wear hiking boots with proper gripping on the soles for climbing up and down steep rocks and hills," she says, "and I can't live without walking sticks."
Although Jennifer opts for sturdy wood walking sticks to help with navigating hills, hiking poles made of lightweight fiberglass or aluminum (similar to ski poles) are favorites of many hikers. Using two hiking poles—instead of one stick or staff— has a range of benefits, including increasing your balance (especially helpful when heading downhill on uneven terrain), reducing stress on your joints, and increasing your overall power by adding your arm strength to the task.
Still, Jennifer likes the feel—and the sound—of natural wood sticks. "They have much more personality than aluminum poles," she says, "and they make noise—clump, clump—to let [wildlife] know I'm there."
In the "nice to have" category, Jennifer says, is a compass: "My Brazos walking stick has a compass on it and so does my cell phone. I also use the app Map My Fitness, which is GPS driven and helps me see where I've been and where I'm headed. I have to be careful about relying on this app, though, because sometimes I hike in areas with no Internet access."
And then, once properly outfitted, she happily hits the trail.
"It's my path to sanity. It's where I burn calories, burn off frustration, and am at one with nature," she says. "It's where I work out my issues and spend time with God. In nature I am free to stretch, run, squat, explore, listen, pray, take notes of my thoughts, and experience the beauty [around me]."
Getting Started
Here are a few ideas for finding local trails and hiking groups.
Many Sierra Club (sierraclub.org) chapters offer regularly scheduled group hikes and outings.
Do a Meetup search for local hiking groups (meetup.com).
Hike It Baby (hikeitbaby.com), for new moms and babies, has hiking groups in 40 cities in Alaska, California, Connecticut, Kansas, North Carolina, Oregon, Tennessee, Texas, Utah, Virginia, Washington, Wisconsin, and Wyoming.
Outdoor retailers, such as REI (rei.com/learn.html), Eastern Mountain Sports (emsexploration.com), and L.L.Bean (llbean.com) offer outdoor classes, guided hikes, and workshops.
Looking for local trails? Try websites like AllTrails (alltrails.com) and EveryTrail (everytrail.com). In California check out Weekend Sherpa (weekendsherpa.com).
Do an online search for state or county parks in your area.
Stop by a local outdoor store and ask about nearby trails.
References
Thompson Coon J, Boddy K, Stein K, Whear R, Barton J, Depledge MH. Does participating in physical activity in outdoor natural environments have a greater effect on physical and mental wellbeing than physical activity indoors? A systematic review. Environmental Science & Technology. 2011;45(5):1761- 72. doi: 10.1021/es102947t.
Aspinall P, Mavros P, Coyne R, Roe J. The urban brain: Analysing outdoor physical activity with mobile EEG. British Journal of Sports Medicine [early online publication]. March 6, 2013. doi:10.1136/bjs­ports-2012-091877.