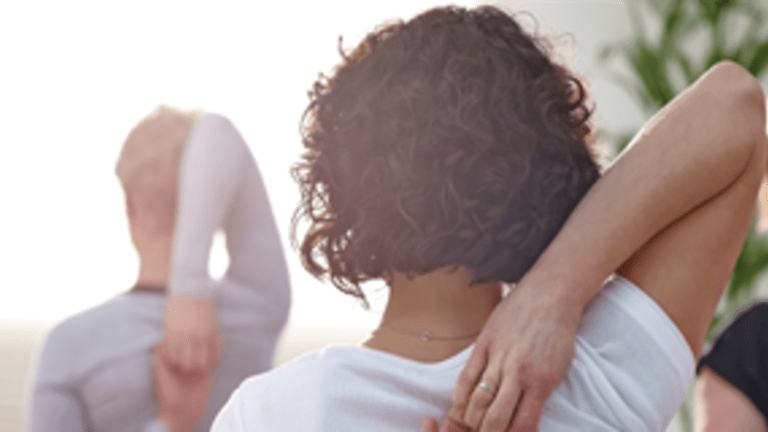 Grab a Group: Exercise Trends and Classes
Fitness classes and small group exercise offerings provide challenge and community.
Have you browsed your gym's group workout schedule lately? If you have, you know that the variety of classes offered today truly provides options for every interest and ability level. And if you haven't considered participating in a class or small group, it might be time to take a look; group exercise can boost motivation, provide new physical challeng­es, and connect you with a community of women similarly committed to health and wellness.
Kerri Dorn is a certified personal trainer and group fitness instructor at FIT Studio in Half Moon Bay, California, where she works with clients one on one as a personal trainer and teaches a variety of fitness class­es. Certified through the National Academy of Sports Medicine in personal training and through the Ameri­can Council on Exercise in group fitness instruction, in addition to a range of specific class certifications, Kerri loves to see the joy people find in challenging them­selves in fitness classes.
"When I hear, 'That class was so much fun!' or 'That class flew by!' that's the best compliment I can get," Kerri says. "If you learn to have fun when you exercise, you'll keep doing it!"
Not sure which class will be a good fit for you? Kerri says a great first step is to set up an assessment session with a personal trainer to get a good idea of your fitness level and establish clear goals: "One hour with a personal trainer will provide you with really productive information," she says. The trainer will evaluate your strength, cardio, and flexibility to help you determine which classes will be a good match to your abilities and objectives, as well as provide other helpful insights. "A trainer can help with small adjust­ments to your technique that can make a big difference and can tell you how much weight to lift, offer basic nutrition principles, and much more," Kerri says.
Ready to go? Next step: take a look at class descrip­tions and pick a class that sounds fun! Browse the breakdown of some of the popular class trends below to learn more about what might work for you.
Interval Training
Whether high-intensity interval training (HIIT), Taba­ta training, or treadmill interval group classes, interval training has been consistently gaining popularity. This method of exercise provides a versatile, efficient workout that is easy to modify for a wide range of fitness levels. The basic concept is to challenge cardio capacity for a period of time (an interval), rest for a period, and then repeat the cycle; the duration of the intervals can vary significantly, from a 1:1 ratio (same rest and workout duration) to much shorter workout and lon­ger rest. Kerri says that HIIT class­es continue to attract new partici­pants at FIT Studio: "You can get a great workout in 30 to 45 minutes in a HIIT class," she says. "These classes offer variety, efficiency, and effectiveness."
Dance Fitness
What is Medicare Advantage
Medical Advantage or MA plan is a health plan provided by a private organization that partners with Medicare to offer healthcare services with their Medicare Parts A and B privileges.
Dance-inspired fitness classes are booming, offering everything from hip-hop and classic ballet barre workouts, to Bollywood and belly dancing, to Latin-inspired Zumba and Salsa—all combining dance moves and great music with aero­bic exercise. Kerri says these classes are "consistently popular; it doesn't feel like you're working out, and they offer a great opportunity for connection with other women."
Flexibility and Strength
The number and variety of yoga and Pilates classes continues to ex­pand: hot yoga, power yoga, gentle yoga, mat Pilates, reformer Pilates, and Pilates/cardio classes. If you are interested in trying one of these methods, you likely will have no shortage of options. The draw for many participants is the low-im­pact nature of yoga and Pilates exercises as well as the focus on mind-body and breath awareness.
Indoor Cycling/Spin
Spin classes continue to attract followers who love the fast-paced, interval-style workouts on station­ary spin bikes led by an instructor. Spin bikes allow you to modify the intensity of the workout by con­trolling the resistance on the bike and pedaling as fast or as slow as you feel able. The music is general­ly pumping, and fans speak to the inspirational, intense environment in these classes.
Mixed or Fusion Classes
As gym-goers seek more variety and increased efficiency in class offerings, group workouts that provide a mix of strength, cardio conditioning, and flexibility are fill­ing more slots on gyms' schedules. From core fusion and cardio core to Piloxing and stretch-and-spin, Kerri says mixed-format classes are certainly a big trend right now, appealing to those who want a total body workout and variety to maximize their time in the gym.
TRX
Total Body Resistance Exercise, or TRX, uses a suspension system with which participants engage in body-weight exercises. Originally developed by a US Navy Seal, TRX exercises offer a low-impact workout that focuses on strength, balance, flexibility, and core work.