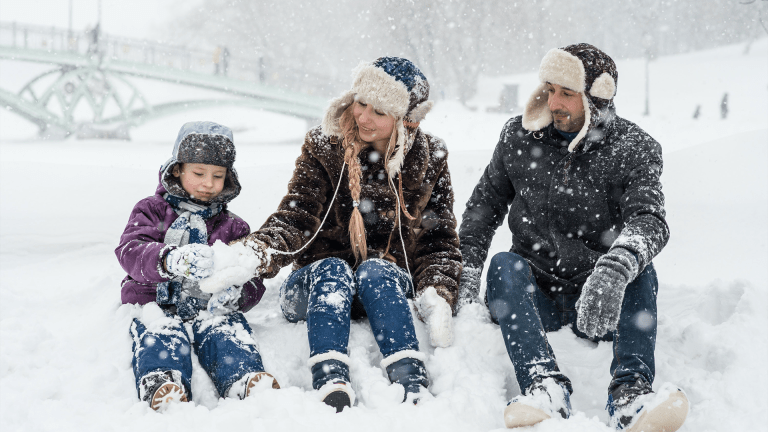 Get Outside for Family Fun This Winter
Winter is no excuse to forego outdoor activities.
As the snow starts to fly and the temperatures dip, it's tempting to succumb to total family hibernation. We may long to sneak off with a good book and a cup of tea while the kids are engrossed in television or video games, but this won't help the family stay healthy for the winter.
Despite cold temps and inclement weather, being outside is still important to our physical and mental wellbeing. We need to be exposed to sunlight, breathe fresh air, and move our bodies. So, bundle up and head outside for some winter family fun with these activities.
Sledding: Sledding is fun for the whole family. You will all get some exercise hiking up the hill—and then enjoy the thrill of the descent. You can sled with traditional sleds or with inflatable snow tubes. The latter has some advantages over sleds. Custom inflatable snow tubes can be designed to have a perfect size and shape for you. They are also more durable, so you can use them for years to come. But the best part about snow tubes is that they are just plain fun! sledding down a hill on a snow tube is an unforgettable experience. So next time you're looking for a fun winter activity do not underestimate the fun that sledding can provide.
Build a Snow Fort: This is the perfect family activity. Work together to build an elaborate fun snow fort. The creativity and precision required for this endeavor can provide hours of entertainment for the kids. In the end, you'll all be able to step back and admire the fruits of your labor.
Build a Snowman: If a snow fort sounds daunting, why not stick with the good old-fashioned snowman? Let your kids get creative adorning their snowman with sticks, rocks, hats, scarves, and more. In fact, pay a visit to your local thrift store and keep a box stocked with these goodies for fun creations all winter long.
Play Games: Everything is more challenging—and often, more fun—in the snow. Play tag, football, soccer, or baseball…in the snow. You'll get exercise and likely collapse in a heap of laughter.
Animal Tracking: Take a walk or hike and see if you can identify the footprints in the snow. Kids are always more motivated to walk if there is a game or goal involved. Consider buying a guidebook to animal tracks and keep a list of all the tracks you find throughout the winter.
Winter Sports: Take the kids ice skating, skiing, or snowshoeing. Or gather a group at the local outdoor rink for a spontaneous game of hockey (or even broom hockey). There are countless winter sports opportunities. Find one that you can enjoy as a family and get moving!
Tips for Outdoor Success:
Dress accordingly. There is an old saying: "There is no such thing as bad weather, just improper attire." A warm, dry kid is a happy kid. By dressing appropriately, you set your kids up for success and fun. Dress your children in warm, wicking layers. Be sure they have waterproof boots, snow pants, and mittens.
Wear sunscreen. Sunscreen is equally important during the winter as it is in summer—if not more so, because the sun reflects off of the white snow. Apply sunscreen to all exposed skin 20 minutes before heading outside. Be sure to reapply if necessary.
Stay hydrated. When we're cold, we may be less likely to drink water; however, kids who are running around outside need to be reminded to stay hydrated. Bring water.
Remember the hot chocolate. Hot chocolate is a treat that is synonymous with winter. Make a big batch of hot chocolate before heading outside. Bring it in a thermos or have it waiting on the stove for your return. Kids look forward to this delicious reward.