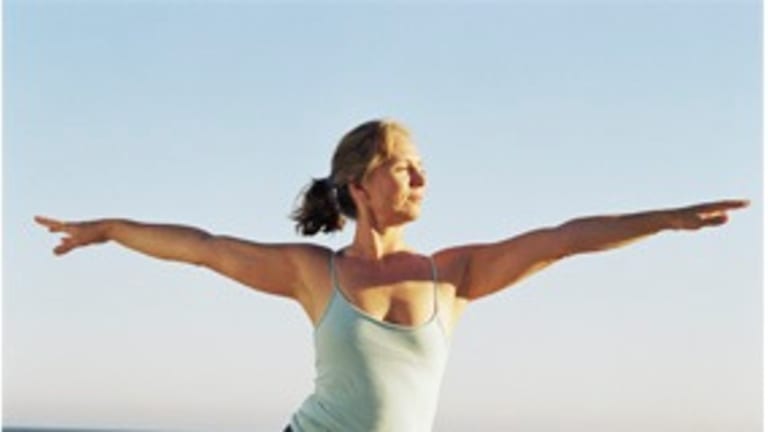 Exercise & Yoga Benefit Breast Cancer Survivors
Two studies suggest exercise benefits breast cancer survivors.
Exercise—whether traditional aerobic or resistance exercise or yoga—provides important benefits to breast cancer survivors.
Two studies provide additional information about the effects of exercise during and after breast cancer treatment. In the first study, women receiving adjuvant chemotherapy for early-stage breast cancer were assigned to participate in supervised aerobic or resistance exercise or to receive usual care.[1] Although exercise did not significantly improve overall quality of life, it improved self-esteem, fitness, and body composition. In addition, women assigned to the resistance exercise group had higher rates of chemotherapy completion. The authors write: "Cancer care professionals should consider recommending either [aerobic exercise training] or [resistance exercise training] to breast cancer patients receiving chemotherapy."
In the second study, a multiethnic (42% African American and 31% Hispanic) group of breast cancer patients was assigned to participate in a yoga program or to receive usual care.[2] Overall, women who participated in the yoga program experienced a smaller decline in social well-being than women who received usual care. In addition, among the women who were not currently receiving chemotherapy, yoga improved overall quality of life and mood.
references
What is Medicare Advantage
Medical Advantage or MA plan is a health plan provided by a private organization that partners with Medicare to offer healthcare services with their Medicare Parts A and B privileges.
[1]Courneya KS, Segal RJ, Mackey JR et al. Effects of aerobic and resistance exercise in breast cancer patients receiving adjuvant chemotherapy: a multicenter randomized controlled trial. Journal of Clinical Oncology [early online publication]. September 4, 2007.
[2]Moadel AB, Shah C, Wylie-Rosett J et al. Randomized controlled trial of yoga among a multiethnic sample of breast cancer patients: effects on quality of life. Journal of Clinical Oncology [early online publication]. September 4, 2007.