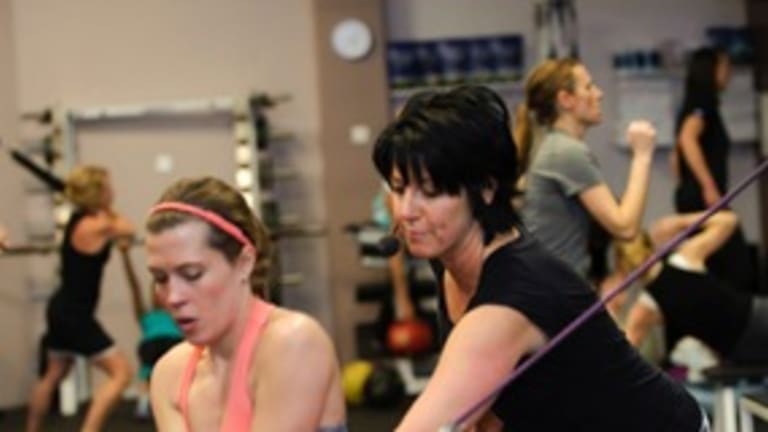 Beat the Exercise Blues
Combat boredom with these new fitness trends.
If you're tired of the same old exercise routine, pump some life into your workouts by trying one of these new fitness trends.
Kettlebells
Kettlebells are cast-iron, bowling-ball-shaped weights with a rounded handle on top. They were invented in Russia in the 1700s and have been used by the Russian and US military for years. Kettlebells come in many sizes, ranging from 2 pounds to more than 100 pounds. Most women start with a kettlebell that weighs anywhere from 12 to 26 pounds, depending on their fitness level.
A kettlebell workout is unlike any other exercise program. It's fast-paced, intense, and fun. Kettlebells combine a cardio and weight workout into one. You'll move through a wide range of swings and lifts and be left feeling exhausted. Your heart rate will rise, and your muscles will fatigue. Thirty minutes of kettlebells is plenty!
A kettlebell workout is one of many new ways to practice functional fitness training or movement-based training that teaches your body to move as a synergistic unit. To get started, look for a class at a local gym or martial arts center.
The Bar Method
The Bar Method is a low-impact exercise system that uses isometrics to create long, lean, sculpted muscles. The Bar Method is a one-hour total-body workout. The method uses hand weights, push-ups, and a ballet barre to target all major muscle groups. Expect intense leg, seat, and abdominal work. The Bar Method looks low impact, but you'll sweat and shake as you feel your muscles working.
Fans of the Bar Method rave about their sculpted arms, flat abs, lifted rear ends, and improved posture. Look for a specialized Bar Method studio in your area.
Zumba
What is Medicare Advantage
Medical Advantage or MA plan is a health plan provided by a private organization that partners with Medicare to offer healthcare services with their Medicare Parts A and B privileges.
Zumba's tagline is Ditch the workout, join the party, and they're not kidding. Zumba is a dance fitness program that uses Latin music and easy-to-follow dance moves for a fun, energizing, calorie-burning workout. Zumba utilizes fast and slow rhythms, interval training, and resistance training to burn fat and tone and shape the body.
You don't need to know how to dance—you just have to want to sweat, boogie, and have fun. Zumba classes are busting out at gyms and studios across the country. Find a local class and let the rhythm move you!
Boot Camp
Boot camp programs are cropping up across America because they're fun and they produce results. Boot camps typically provide total-body workouts that are challenging and different every time. They often take place outdoors and combine cardio and strength exercises.
The key to boot camp is the variety—in intensity levels and routines. Expect both high- and low-intensity exercises in a high-energy, motivating environment surrounded by people who want to get fit fast.
CrossFit
CrossFit is the latest fitness trend sweeping the nation. CrossFit routines are aimed at developing strength and cardiovascular fitness. Participants move between several stations, such as push-ups, flipping tires, jumping rope, hanging crunches, and much more.  CrossFit trainers say that their specialty is not specializing.
Many police academies and military operations use CrossFit as their strength and conditioning program, but it's suited for all ages and ability levels. Expect a little bit of everything. Expect to be surprised. Expect to sweat and have fun.
Exergaming
Exergaming systems such as Nintendo's Wii Sports and Wii Fit have quickly gained popularity as a fun, unique way to exercise. These systems integrate fitness-based video games into their programming. The jury is still out on whether these exergames provide any real fitness benefits, but they are at least a step above sitting on the couch. If nothing else, they are a fun alternative to skipping exercise altogether.